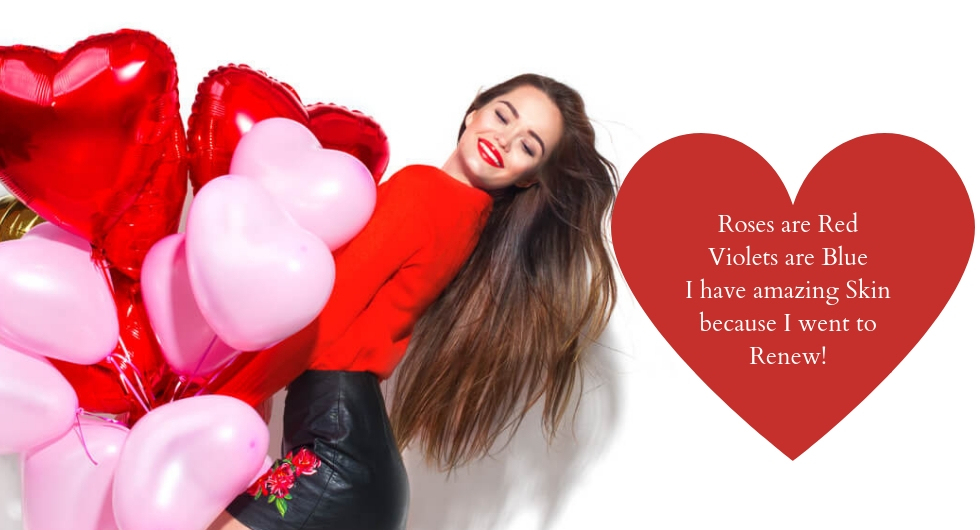 Love your Skin this February
14 February 2019
This Valentines we have an amazing offer
1ml of Lip Filler ONLY €300
0.5ml ONLY €250
Lips are an essential and expressive feature of the face and at Renew Skin Clinic, our Nurses create bespoke treatment plans for lip fillers and lip enhancement. Our Nurses work with you to understand your needs and expectations around lip fillers, and we deliver natural-looking bespoke lip augmentation that respects the anatomy and harmony of your face.
At Renew Skin Clinic all our injecting is carried out by Nurses Only,
all with 15 years or more of injecting experience so you know you are in safe hands.
Buy 2 sessions of Full face IPL treatment
and get 3rd free. €360 - SAVE €180
From rosacea to sunspots and freckles, an IPL treatment at Renew Skin Clinic will help you achieve healthy, beautiful looking skin. Intense Pulsed Light (IPL) technology, can help reduce the appearance of some of the most common skin woes, including brown spots, melasma, broken capillaries and sun spots.This minimally invasive skin procedure can also treat signs of aging such as wrinkles or age spots.
Rejuvenation Facial-Medical Peel and IPL Treatment. €200 - Save €75

Peels can make your skin and skin-care products work better. In minutes, acids lift away dead cells and trigger a lovely chain reaction. As that topmost layer is shed, signals are sent to the living cells below to multiply and move up, to increase collagen production, to make more Hyaluronic acid to act younger.

Your skin-care products perform better after a peel because there are no dead cells impeding their penetration.. Combining a medical peel with IPL will leave your skin rejuvenated and glowing!

Microneedling, Mesotherapy, hydrating mask and LED light - €295 Loved By Lisa McGowan "Lisa Lust List"

Microneedling corrects open pores, lines and wrinkles, pigmentation, acne scarring and stretch marks by inducing the body's own natural production of collagen and elastin to regenerate your skin. The aim of Mesotherapy in skin rejuvenation is to maintain and restore a healthy, youthful skin texture. The desired effect is to firm, brighten and hydrate the skin through injecting naturally occurring products just under the surface of the skin.

The Hydrating Bee mask infused with Bee Venom will add that all important moisturize to the skin, it will work synergistically with our Vitamin C peel. Bee Venom will also have a tightening affect on the skin that will leave it truly rejuvenated.

LED Light Therapy. Applied for 15 minutes to the skin while the cellulose mask is in place. This Mask is the only mask that allows the LED light penetrate into the skin. The combination of Red and Blue wavelengths of LED light will reduce inflammation in the skin promote collagen production, tighten open pores and give an overall youthful look the the skin.

20% off Ultherapy treatments (Ballinasloe ONLY)

Non-invasive, No downtime just natural results.

Are You Seeking A Way To Get Firmer, Younger Looking Skin Without Expensive Surgeries? Switch to Ultherapy! You can now receive the only non-invasive procedure cleared by the FDA to lift skin and begin to restore a healthy glow. Ultherapy is able to lift skin under the neck, chin, Face and brow without a single scar. No downtime to heal. No foreign substances. No radical change to your life other than healthier skin.

Dublin : 01 6619261

Naas : 045 901111

Drogheda : 041 9865758

Ballinasloe - Shearwater Hotel & Spa: 0909630594

Bath Avenue : 01 6619261