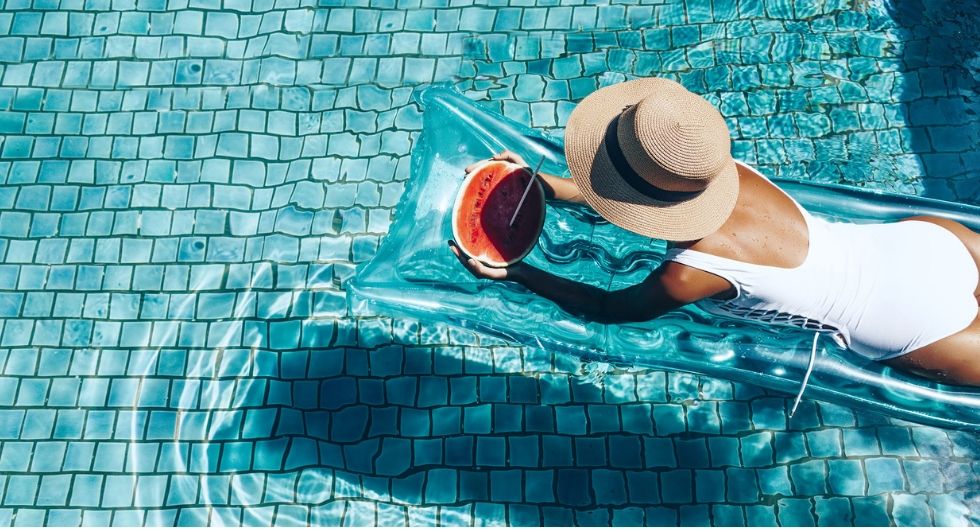 Be Radiant Poolside This Summer
Don't Let Cellulite Ruin Your Fun
12 July 2019
Is there anything as nice as a week or two in the sun?
Lounging by the pool, letting your bones soak up the heat, ah bliss! As the holiday season kicks in, many of us are on count-down to a break away, but for lots of women lounging by the pool means feeling the need to cover up due to pesky cellulite. Yes, cellulite is one of those delights that's usually reserved for the ladies – sigh. But you don't have to 'just accept it'. You're beautiful and you deserve to wear that stunning bikini on your hols if you want to!
Cellulite- What is it anyway?
Society has informed women about what cellulite appears like. Most likely, you'll know if you have it. But you may not know that there are 3 different types of cellulite – as if one wasn't enough! Cellulite isn't like a blood type or eye colour, it's possible to have a combination of all three types of cellulite in your body.
Adipose Cellulite
This is the most common form of cellulite and appears on the tummy, bum and thighs as well as on the upper arms. It's not a painful form of cellulite but its appearance can make people feel self- conscious about their body. Generally, adipose cellulite occurs with ageing and weight gain accompanied by a sedentary lifestyle.
Aqueous Cellulite
Aqueous cellulite is caused by a sluggish lymphatic system or circulatory problems. The body's usual system for carrying and clearing out toxins is slowed down and so the body retains fluid and is prone to swelling. This type of cellulite has a spongy feel and can be uncomfortable when touched. The arms and legs often feel heavy and swollen in addition to the characteristic lumps.
Fibrous Cellulite
This is the least common type of cellulite, but also the most difficult to treat. As the name suggests, this type of cellulite involves a thicker, more fibrous type of cellulite. It can occur in younger women from adolescence and has a different appearance. The skin appears taut while also dimpled. Fibrous cellulite not only causes women distress about their appearance, but it can be quite sore too. For this reason, it is certainly worth having a consultation to see what can be done to relieve the discomfort associated with it before the condition worsens over time.
What Causes Cellulite?
Cellulite is much more common in women than men because of the make-up of their fat cells. Women carry more fatty deposits and it is structured differently than in men. The connective tissues which join the muscle under the fatty layer to the skin get stretched when there is a build-up of fatty deposits. The tension between these tissues and the fatty deposits around them cause the dimpling effect that accompanies cellulite. However, cellulite is common among women of all shapes and sizes. Hormone levels can be a contributing factor as can genetics, pregnancy and your activity levels.
Effective Treatments
While people have been trying to address cellulite for many years, it's only relatively recently that effective treatments have become available to the wider public. Unfortunately, many of the creams available to treat cellulite are not as effective as many would hope they are.
At Renew Skin Clinic, we are proud to offer three types of treatment which tackle cellulite effectively. As each of our bodies is different, your nurse will be best placed to advise which treatment is the best for you after a consultation.
Body Ballancer
The Body Ballancer, as featured on Xposé, involves wearing a compression garment, a bit like a sleeping bag, with air pockets in it which direct a flow of air around the body, like massage strokes, to stimulate the lymphatic system. The treatment feels like a relaxing massage and is developed from the science behind lymphatic drainage massage. Not only does the Body Ballancer address cellulite, it clears, firms and tones, improving lymph drainage and circulation.
Endermology
Endermology, available at our Renew Skin Clinic in Naas, is a type of lipomassage. Lipomassage stimulates lipolysis, the breakdown of fatty cells, to encourage inch loss and significant improvements in the appearance of cellulite. Endermology is a great treatment for stubborn areas of cellulite around the tummy area and can help you get your figure back after pregnancy.
Icoone
Available at our Renew Skin Clinic in Dublin, Icoone is a micro-stimulation massage treatment. Icoone is not like a regular massage, the device messages at a cellular level, stimulating the fibroblasts in the skin to produce collagen and to break up cellulite. Icoone delivers a unique anti- aging and anti-cellulite treatment in one. Icoone is a non-invasive treatment which can be used daily for short periods to achieve results before a big event. Under usual circumstances, treatment is recommended twice a week for a few weeks to achieve the desired results. Upkeep is then provided by one treatment per month.
All three of our anti-cellulite treatments available at Renew Skin Clinic reduce the appearance of cellulite while also helping you to lose inches from your waistline. Whether you have been hiding your cellulite for years or have only just noticed it, don't worry, our experienced, understanding team of nurses at Renew Skin Clinic will be happy to advise you on the best course of treatment for you.
Our service is completely confidential and discreet, so no one need ever know you were here!
You can book your consultation online or give us a call at your local Renew Skin Clinic and we'll be happy to help