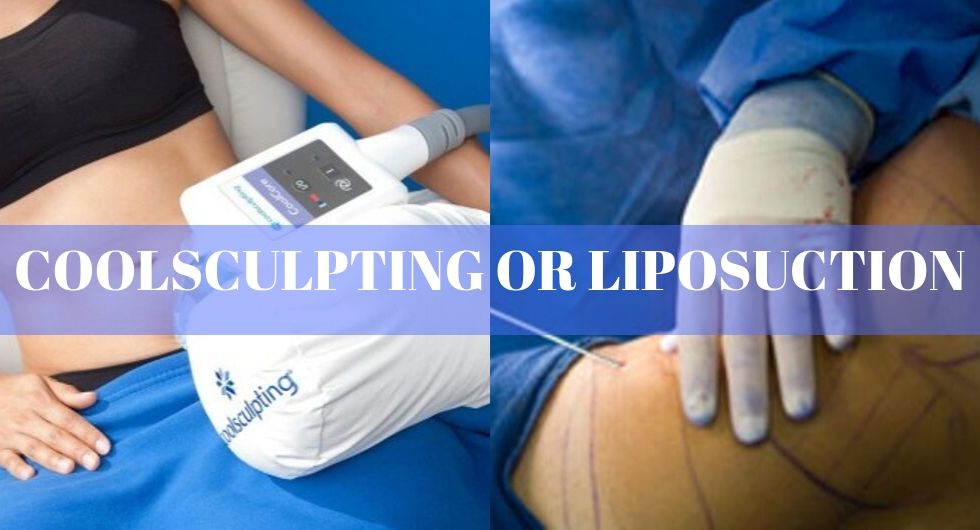 Choosing a Fat Reduction Treatment – Coolsculpting or Liposuction?
25 September 2019
If you are an active person who keeps in shape, it can be very frustrating when you see stubborn pockets of fat which just won't disappear no matter what you do. These pesky fat deposits can result as we age or after having children. In these situations, many people look to fat reduction treatments for a little helping hand to beat the bulge. However, choosing the right treatment can be difficult.
Today, on the Renew Skin Clinic blog, we want to explore the differences between two popular fat reduction treatments, so that you can make an informed decision when choosing a fat reduction treatment.
Coolsculpting and Liposuction are two types of fat reduction treatments that can give similar, permanent, fat loss results. However, the treatments themselves are quite different, so not everyone will choose one over the other.
Liposuction
Up first, the fat reduction staple – liposuction. So, we called it a 'staple', that's because it's been around for years and practically everyone knows a bit about what liposuction is. Liposuction is a surgical fat reduction treatment which was developed during the 1980s. It involves being sedated with either a general or local anaesthetic while the doctor makes a small incision to the area to be treated. A cannula, or long thin tube, is inserted into the incision and as the name of the procedure suggests, the fat is suctioned out of the body.
Coolsculpting
Coolsculpting is a newer procedure, which is not as well-known as liposuction yet. It is a non-invasive alternative to liposuction. The technical term for the type of treatment is cryolipolysis. During Coolsculpting, the fat is frozen within the body, the equipment uses suction to pull the skin up to the head of the machine which cools it. The cooling action kills the fat cells and they are then passed out of the body using the natural detoxifying process.
Deciding Which Treatment Is for You
There are pros and cons to each treatment, so let's look at these.
Surgical or Non-Surgical
The biggest advantage of Coolsculpting is that there is no surgery involved. You don't have to have any incisions, although the incisions made for liposuction are generally very small. Surgery always carries risk and it will take time for your body to get over the effects of the anaesthetic.
Recovery Time
With Coolsculpting, you can come in for your treatment and leave an hour later to resume your activities. The recovery times are different too. Coolsculpting has a minimal recovery time, you will be up and about straight away. Liposuction, because it involves surgery and stitches, takes a few days for initial recovery. It can then be up to four weeks before you can resume strenuous activities.
Results
The results of the two procedures are pretty comparable. However, during a liposuction treatment, it is possible to remove up to 5 litres of fat in one operation, whereas Coolsculpting may require a number of treatments to deliver the desired effect. Yet, Coolsculpting is not any less effective, it can remove up to a quarter of the fat cells in the treated area.
Time to See Results
Although the results are similar, they can take different times to appear. Liposuction can result in a lot of swelling after the surgery. This takes time to reduce and so it can be some months before the effect of your treatment become noticeable.
Coolsculpting can result in slight bruising around the area for a few days, but it is not as deep as with liposuction and goes away quite quickly. You will then be able to see the results as soon as your body starts to flush out the dead fat cells, in a number of weeks. The full results become apparent in a couple of months.
Treatment Area
You can have a number of areas treated in each Coolsculpting treatment and while under anaesthetic for Liposuction. Once you discuss the areas for treatment with your doctor or nurse, depending on the treatment, a suitable plan can be devised. If you are opting for Coolsculpting, treating a number of areas will increase the length of each session and more sessions may be necessary to achieve the desired results. Of course, during Liposuction, the doctor will take care of everything in one session to avoid multiple costly operations. However, again, the more areas you get treated with liposuction, the longer the recovery time will be.
These are some of the main considerations when considering which fat reduction treatment is right for you. When you have a consultation with your medical practitioner, they will assess your needs and your health. Neither Coolsculpting or Liposuction are suitable for everyone, so your medical practitioner will need to check to ensure that you are able for the treatment first.
While we don't offer liposuction at Renew Skin Clinic, we will be happy to discuss suitable fat reduction treatments with you. You can make an appointment for a pressure free consultation where you will discuss your options with a nurse and find out everything about whether Coolsculpting or liposuction might be the right treatment for you.
Call your local Renew Skin Clinic to have a chat or, simply make your appointment online. We look forward to speaking with you.