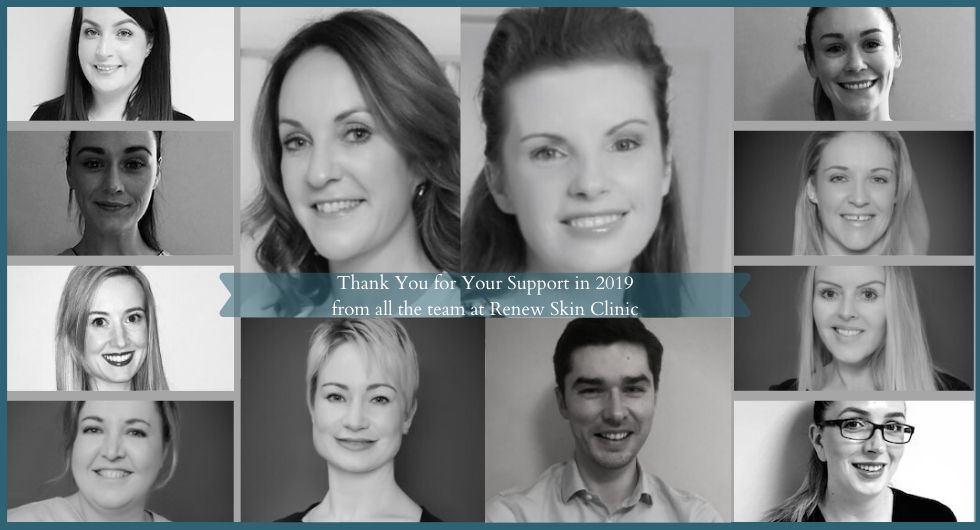 Thank you to all our clients, readers and colleagues who have provided wonderful support throughout the last year.
22 January 2020
At Renew Skin Clinic, we're big believers in giving thanks. Nobody gets to the top on their own, we all need support, encouragement and to see that others believe in us. So, this week on our blog we'd like to take a moment to say thank you to all our clients, readers and colleagues who have provided wonderful support throughout the last year.
2019 was a busy year at Renew! It was our thirteenth year in business but we're not running out of steam yet. When our first Renew Skin Clinic opened its doors in Dublin in 2006 we had big hopes for our fledgling clinic. Looking back on all we've achieved to date we feel so grateful. We now have 5 clinics around Leinster and a little further afield, lots of wonderful clients who we enjoy a great relationship with, and we love what we do! What more could we ask for?
During 2019, we were lucky enough to pick up the Image Business of Beauty Award for Best Aesthetic Clinic. This award means a lot to us as it was voted for by readers, the public, our clients. We always go out of our way to provide the best of service to all our clients, so being recognised like this was amazing.
We were also awarded by Ulthera, the company behind award-winning treatment Ultherapy, as Ulthera Best Clinic. We proud to offer our clients such a revolutionary treatment as Ultherapy, we see the results time and again, with lots of happy clients. So, to be recognised by Ulthera as the leading Irish clinic administering this non-invasive rejuvenating treatment is wonderful.
In addition to picking up awards, we were busy on the ground too! If you've been following our blog for some time, you'll know that mid-way through 2019 we announced some new treatments at Renew. We know that our clients want access to the best, ground-breaking non-invasive skin treatments and at Renew we strive to maintain a suite of treatments which is second to none. And so, in 2019 we were delighted to introduce CoolSculpting, OxyGeneo Facials and Sunekos to our menu of procedures on offer. Now that these treatments have been on offer with us for about 6 months, we are hearing plenty of clients reporting back on the positive results they have seen. For us at Renew, it's all about delivering a fantastic end result for our client and so this feedback confirms that the investment in these treatments was worth it for Renew Skin Clinic as a business, but more importantly, for our clients.
With all the work that was going on in our 5 clinics, we took on three new staff members during 2019. They have settled in now and are becoming valued members of the team.
Finally, towards the end of 2019, we moved our clinic in Naas to a larger premises at Moat Mall which front onto North Main Street in the town. While we've had a presence in Naas for some time, this move allows us to serve more clients in the south Kildare area. This was a perfect way for us to round off the year at Renew.
As we said at the top of this blog, we couldn't have achieved any of the above without our valued clients, readers and colleagues who make what we do all worthwhile. As a thank you, we are offering 20% off all treatments for the month of January. Simply book an appointment online or contact your nearest Renew Skin Clinic – we have two in Dublin, one in Naas, one in Drogheda and one in Ballinasloe. We will make an appointment for you to meet with a member of our team to discuss the best treatment for you.
Oh – and watch this space, 2020 will be another busy year for us at Renew! 😉 To be the first to find out about exciting new developments – and some nice offers, be sure to join our mailing list!