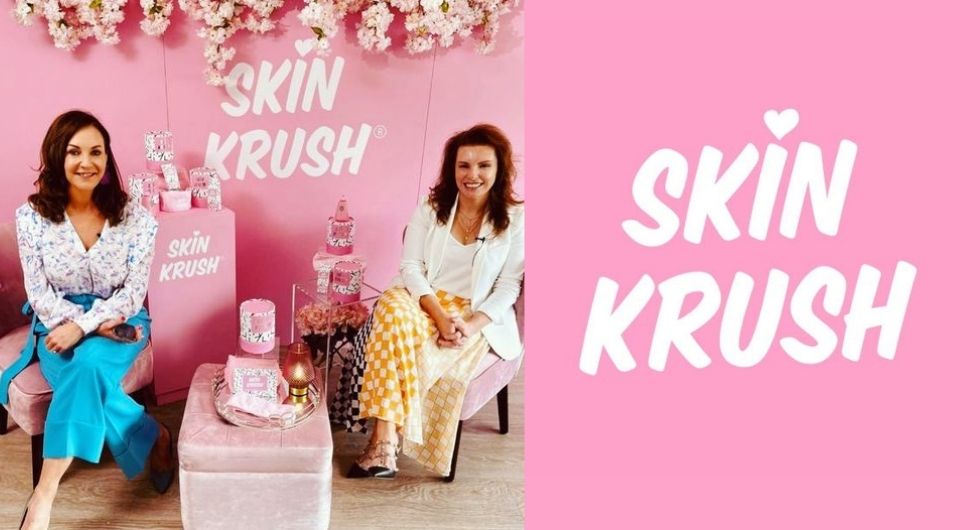 Sinead Gallagher and Jeanette Dunne the duo behind Ireland's Renew Skin Clinic have developed a home use microdermabrasion tool - Skin Krush
Designed to exfoliate dead skin cells to reveal a smoother, more vibrant complexion.
12 August 2021
The team behind Ireland's Renew Skin Clinic
bring you a state-of-the-art exfoliation tool to help clients achieve super-smooth, nourished skin at home between beauty appointments.
In the course of their work, Jeanette and Sinead realized that while both women and men wanted to look and feel their best, regular in-house clinic treatments were expensive, so the pair worked closely with an Irish design company over the last five years to develop Skin Krush, a home use device that provides a microdermabrasion treatment in the privacy of the user's own home at an affordable price.
Skin Krush works by using a double action of suction and crystals to gently exfoliate the dull skin cells from the top layers of the skin, improving the appearance of fine lines, blackheads, open pores and uneven skin tone. It also enhances the absorption of skincare products, leaving behind beautiful, glowing skin. Its exfoliating action can also help remove stubborn streaky tan. Skin Krush has two suction settings and two intensities, so you're completely in control of your treatment and can tailor it to suit your skin type, while the filter system reveals the dead skin cells that have been removed after a single treatment.
"Throughout our 16 years working in Renew Skin Clinic, we noticed younger girls and boys were often intimidated and misinformed about skincare and treatments that were available to them. This age group often commented that treatments were too expensive," says Jeanette. "We'd also hear from women and men who were time-poor and found it difficult to schedule appointments due to family or work commitments, and parents whose children's skin was badly affected by processed foods, heavy make-up and false tan, who wanted the best solution. We decided to develop our own home-use microdermabrasion kit predominantly for those aged between 19 and 35, as our research showed this cohort of young adults were the ones who shied away from coming into the clinics."
"In my late twenties and early thirties, I suffered badly from acne," says Sinead. "When we opened Renew Skin Clinic, microdermabrasion was the first machine we bought. The difference microdermabrasion made to my skin was incredible. When we have a build-up of dead skin cells on the outer layer of the skin, it doesn't allow anything to penetrate into the deeper layer of the epidermis, therefore none of the expensive creams or serums we buy can do their job. This is where microdermabrasion can help when used correctly. It removes dead skin cells, revealing a much brighter, clearer complexion; and for very oily skins, it can help control the sebum in the skin that causes excessive oil production. This in turn allows our skincare to penetrate the deeper layers of the skin and do what they're supposed to and in turn gives us dewy, glowing skin."
Skin Krush is designed to help users achieve flawless, dewy skin at home and encourage younger users to start looking after their overall skin health.
"Following several prototypes, we tested Skin Krush on some of our clients. Their feedback was hugely positive. They loved that they could still come into the clinic for a stronger microdermabrasion, but wanted something they could use in between treatments at home," says Jeanette. "This all happened before Covid-19, and lockdown just gave Sinead and me the push we needed to get Skin Krush launched on to the Irish market. We plan to bring out more beauty tools, so we can help people look after their skin in the comfort of their own homes. I personally love using Skin Krush before I apply make-up, as it allows it to sit much better and acts like a primer. It's also great for fixing false tan mishaps!"
What's included in the Skin Krush kit:
Microdermabrasion handheld device
10 filters (to gather dead skin cells)
6 reusable tips (tips need to be replaced after four uses and can be purchased at skinkrush.com) Fine tip x2 (to start the treatment with)
Medium tip x2 (to increase the intensity)
Precision tip x2 (to use around the nose)
USB cable for charging
Skin Krush, €150, is available to order now at www.skinkush.com.
Follow Skin Krush on Instagram https://www.instagram.com/skinkrush/
To schedule a consultation give us a call or drop us an email.
To purchase products visit https://www.renewclinic.ie/store
📞 016619261
📧 This email address is being protected from spambots. You need JavaScript enabled to view it.