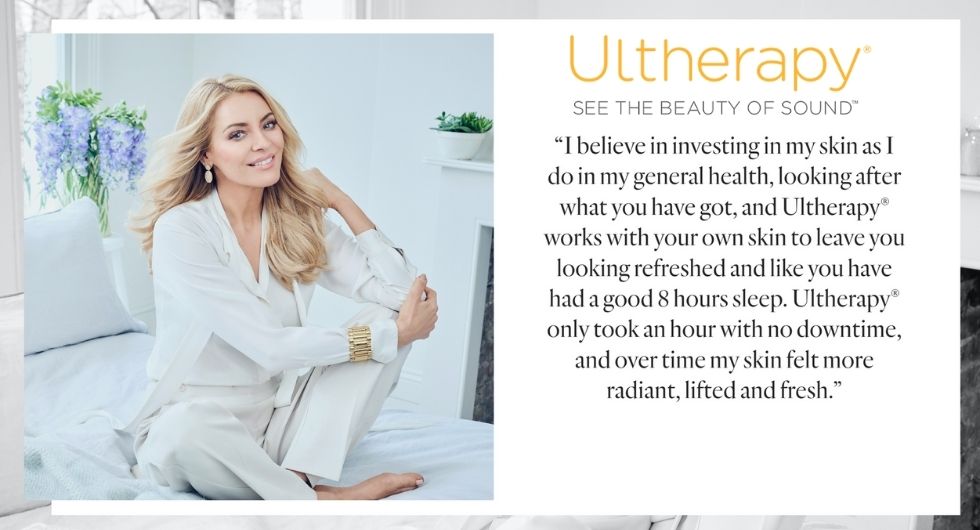 Ultherapy is the skin-tightening treatment everyone's talking about..
20 September 2021
The Strictly Come Dancing presenter Tess Daly has revealed that she is a great "fan of the non-surgical treatment" to enhance and maintain her naturally beautiful looks. Tess, who turned 52 earlier this year, had the treatment a year and a half ago and is now enjoying lifted and tightened results across her skin.
First things first, what exactly is Ultherapy, and why is it one of the best non-surgical skin tightening treatments; if there's no scalpel involved, what exactly is doing the heavy lifting?
There are no needles with Ultherapy; nothing injected, nothing stiffens, nothing fills. All that happens is an ultrasound wand is applied to the parts of the face from which collagen is rapidly departing, the neck, the cheeks, the brow, and of course, the jawline. The resulting heat, produced by very targeted sonic waves, kickstarts lazy collagen into frenetic activity; this ultimately re-tightens and lifts the face.
Ultherapy has the benefit of stimulating collagen production and therefore leads to glowing, healthy, more taught skin. You can age well with Ultherapy, a high-powered ultrasound treatment which is clinically proven to lift and tighten the skin.
The length of the treatment will depend on the area being treated and your individual treatment plan. A face and neck procedure takes 60-90minutes, while a chest treatment takes approximately 30 minutes. We can also do smaller treatment areas, such as around the mouth for lip lips, or under the eyes for poor quality skin.
Most patients need one treatment. However, based on the degree of skin laxity, the biological response to ultrasound and the individual's collagen-building process, some patients benefit from additional treatments. Because skin continues to age, future touch up treatments can help patients keep pace with the body's natural ageing process.
Anyone can be treated, the 30's age group benefit preventatively and reduce the onset of sagging, 40's-50's really tighten up that sagging that has started to appear. 60's onward also benefit, although a good candidate has mild to moderate laxity. At this age, you may benefit from treatment of smaller areas such as firming up the smokers lines around the mouth, puffiness/hallows under the eyes or a brow lift for droopy lids.
The possibilities are endless and exciting.
Did you know Renew Skin Clinic was awarded the best Ultherapy® Skin Clinic in Ireland in 2019
To schedule consultation give us a call or drop us an email.
📞 016619261
📧 This email address is being protected from spambots. You need JavaScript enabled to view it.