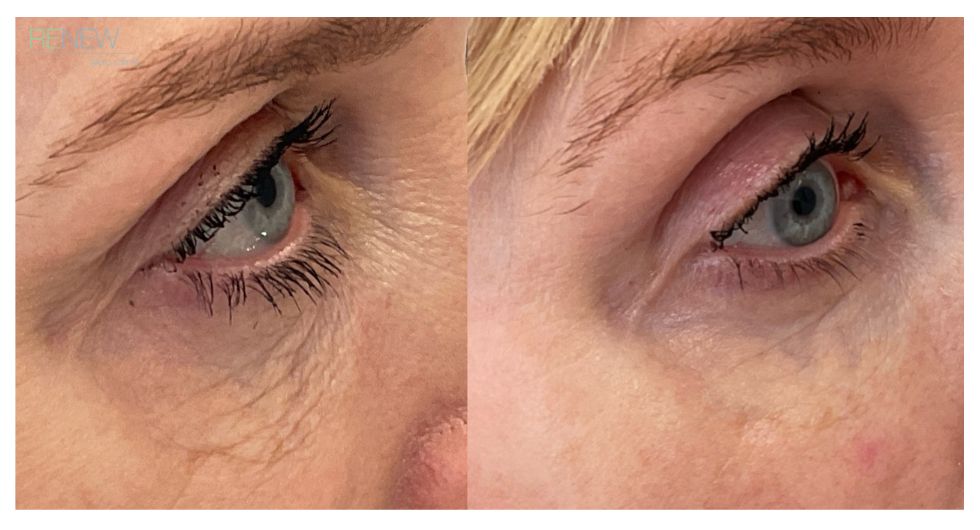 🤩 Our Client loves her result from 3 under eye treatments of Sunekos..
15 August 2022
Sunekos Treatments at Renew Skin Clinic
Sunekos is a unique combination of hyaluronic acid and amino acids which stimulate the skin's fibroblasts to produce new collagen and elastin. Initially four treatments are required at 7-10 day intervals, then one treatment every 3-6 months to maintain results. The only exception to this is the undereye area, which requires three treatments initially at 2 weeks apart.
SuneKos is an injectable treatment that's entirely different to filler treatments; this treatment uses a patented formula which combines amino acids (the essential building blocks of elastin and collagen with hyaluronic acid. SuneKos regenerates the Extra Cellular Matrix (ECM) of your skin and deeply hydrates and plumps the treated tissue.
Common Areas
Sunekos is a highly versative product, and can be used on all areas of the face and neck. The eye area responds very well to treatment - it improves the appearance of dark circles and softens the fine lines in the delicate eye area without affecting movement. Sunekos is primarily recommended for mature skin to reduce the signs of ageing and reactivate cellular functionality, however it can also be used for younger skin to slow down the physiological ageing process.
Indications that this treatment may be right for you:
You are noticing lines and wrinkles.
You have skin crepiness.
You have skin that is lacking in elasticity.
Your skin is thin and lacks volume and plumpness.
You have dehydrated, sun damaged skin.
You would like to prevent early signs of skin ageing.
To schedule a consultation or book a treatment give us a call or drop us an email.
To purchase products or gift cards visit https://www.renewclinic.ie/store
📞 016619261
📧 This email address is being protected from spambots. You need JavaScript enabled to view it.