Facial and
Dermal Fillers
Facial Fillers For Lines,
Wrinkles and Folds
As we age, we begin to lose elasticity in the face and a loss of volume due to the disintegration of fat pads which can end up leaving small hallows begin. This is what causes issues such as crows feet, lines around the mouth (often referred to as smoker's lines) and a reduction in volume of the lips.
Facial fillers are a natural and safe way to reduce the look of fine lines and wrinkles in the face and replace lost volume to the face. The Dermal filler procedure offers as quick solution with minimal downtime allowing you to restore your confidence and feel beautiful in your own skin.
At Renew Clinic our qualified nurses hold over 15 years of experience treating clients with facial fillers and utilise only the highest quality market leader facial fillers.
Facial Filler Frequently Asked Questions
What are Dermal Fillers made of?

What areas can I treat with fillers?

Are facial fillers safe?

Are Dermal Fillers painful?

How long will my facial fillers last?
For more information on facial fillers at Renew Skin Clinic, you can Contact Us or visit Our Blog for more details.
WHAT PEOPLE SAY
Sunday Business Post
Wrinkle removal without surgery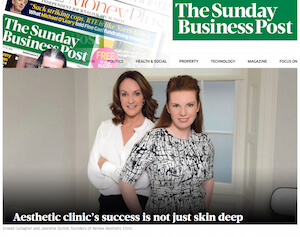 The results came through almost instantly and I was delighted to see an improvement. The Restylane eased my wrinkles and I looked completely like myself – just a little bit perkier. I had expected the bruising to be worse, but it was fairly faint and easily covered with make-up… Overall, I was delighted with the experience. Nobody has suspected that I've had any work done – or not that I can tell anyway – but I've had lots of compliments from people not quite able to put their finger on what's different about me… And while I wouldn't consider plastic surgery, I'm delighted with the results from the injections
Sunday Business Post Article
Age: the final frontier Sixty-two-year-old Mary Kenneally received her first dose of botox at Renew Aesthetic Clinic in Dublin in December. She has never had any cosmetic procedures but says she began to consider getting some work done after seeing the effects it had had on others. Her daughters encouraged her to give it a shot and she made an appointment at the Dublin clinic to find out what was on offer. "At my age I'm not going to improve without a little bit of help," she says. "I'm very pleased with it. People keep telling me I'm looking well. It was a pretty hectic Christmas and I look surprisingly fresh." Kenneally also received some laser treatment to remove thread veins from her face and age spots on the back of her hands. She says she was hugely impressed by the results of both of those procedures.