Facial and
Dermal Fillers
To treat lines, wrinkles and
volume loss on the face and neck
Renew Skin Clinics are based in three convenient locations including Dublin, Naas and Drogheda. So wherever you are based in the East of Ireland, we will be able to help you with your aesthetic procedures.
As we age, we lose elasticity and volume in our face. This happens as fat pads from around the face slide out of place and disintegrate, bone structures become smaller due to bone reabsorption leading to the face taking on a hollow and heavy look instead of the love heart shape that looks more youthful.
Facial fillers are a natural and safe way to reduce the look of fine lines and wrinkles in the face and replace lost volume. The Dermal Filler procedure offers a quick solution with zero surgical treatment and minimal downtime, allowing you to restore your confidence and feel beautiful in your own skin.
Dermal fillers will provide a renewed fullness to your skin, leaving your face looking fresher. You'll look just like you, but younger! At Renew Skin Clinic not only will be you be subject to the best possible ingredients and techniques but you will also be in the very best hands.
Our dermal fillers are implemented by highly qualified healthcare professionals in our Dublin, Naas and Drogheda Clinics. The team at Renew Skin Clinic holds over 15 years of experience in performing Dermal fillers on our clients. Your aesthetic procedures will be carried out by a registered nurse or a medical practitioner, so you can sit back and relax while our professionals work their magic.
We will guide you through the Dermal Filler process during your consultation and ensure that you are comfortable with every aspect of the procedure before we begin.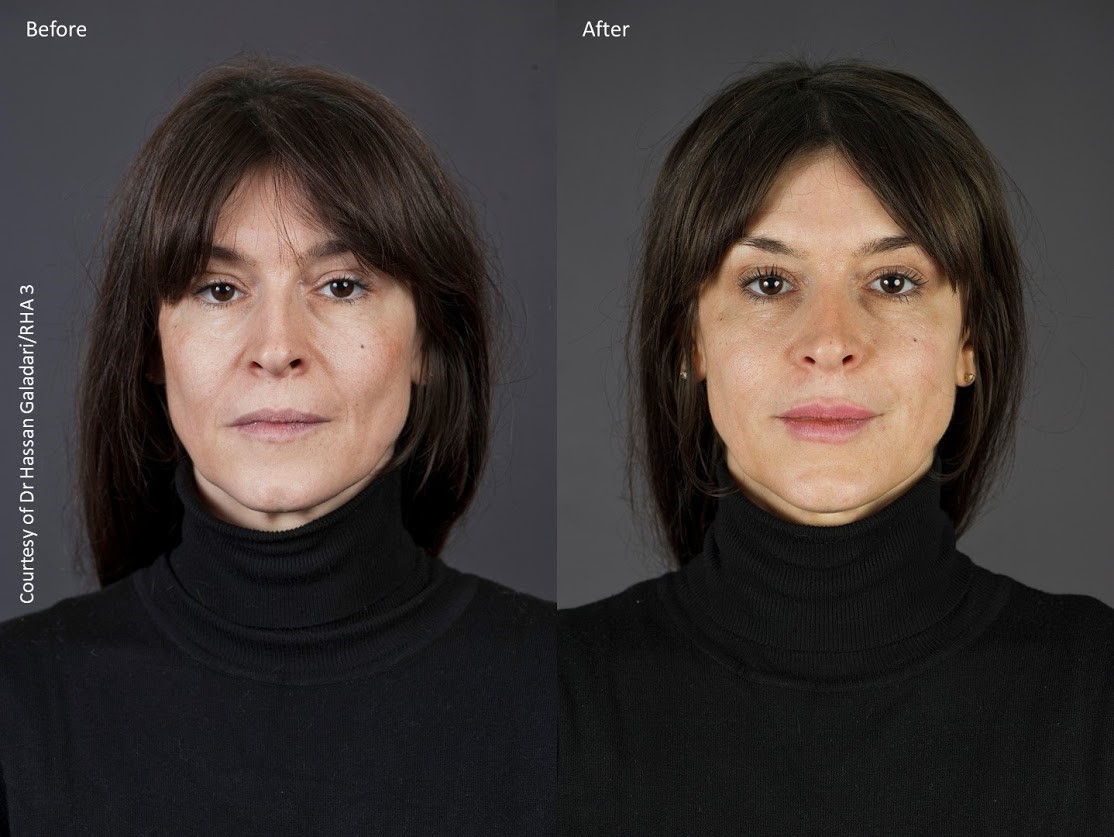 If you are curious as to what the process looks like we have summarised it in four detailed steps below:
Step 1: Facial assessment and mapping ahead of Dermal Fillers.
During your consultation, our registered nurse or doctor will evaluate your facial appearance and your skin tone. We will then thoroughly examine the areas of your face to be enhanced and address your areas of concern. Strategic points on your face may be marked as the appropriate sites for the filler. Photographs may also be taken of the area to be treated. This will allow for us to ensure that we pinpoint the best locations for filler to provide you with most natural and aesthetic final result.
Step 2: Cleansing and anesthetising.
At your Dermal filler appointment the sites for the injection will then be meticulously cleansed with an antibacterial agent. Pain at the injection site will be relieved by the use of an anaesthetic cream. The anaesthetic process will enable the client to feel completely at ease while our highly skilled staff carry out the dermal filler procedure.
Step 3: Injecting process.
The injection usually only takes a couple of minutes per site. The process of injecting, massaging and evaluating the results is then performed. Our nurses and doctors will add additional filler as required for the desired result.
The length of the process will vary depending on the number of areas to be enhanced. The whole process could be as short as 45 mins if there are minimal areas to be treated. The process is elongated if there is an increased amount of areas to be enhanced.
Step 4. Recovery.
Once the results are deemed satisfactory by the nurse or doctor at Renew, any prior markings will be gently cleansed off. Although the area might feel tender for a day or two your new Dermal Fillers should not cause you too much discomfort or pain.
Side effects: One of the best pros of opting for Dermal Fillers is that side effects are very mild to moderate. You might experience some mild bruising after the procedure but the recovery time is typically very quick. One of our nurses or doctors however, will discuss this with you in full and will answer any questions or queries you may have.
Research suggests that many individuals don't merely opt for dermal fillers for their appearance but for their confidence too! Lines and wrinkles are a natural part of the aging process. Nevertheless, they can get us down but they really don't have to. With our simple and relatively painless procedures we can smooth out crevices and allow you to feel confident and more youthful than ever!
Did you know? Dermal fillers are also being used to help ease migraine trouble, TMJ issues and bruxism. Usually a series of small injections into the offending muscles can help to relieve symptoms.
You can rest assured that at our Dublin, Naas and Drogheda Clinics we are experts in the Dermal Filler field. We will do our ultimate best to ensure that the end result of your Dermal Fillejourney meets all of your expectations.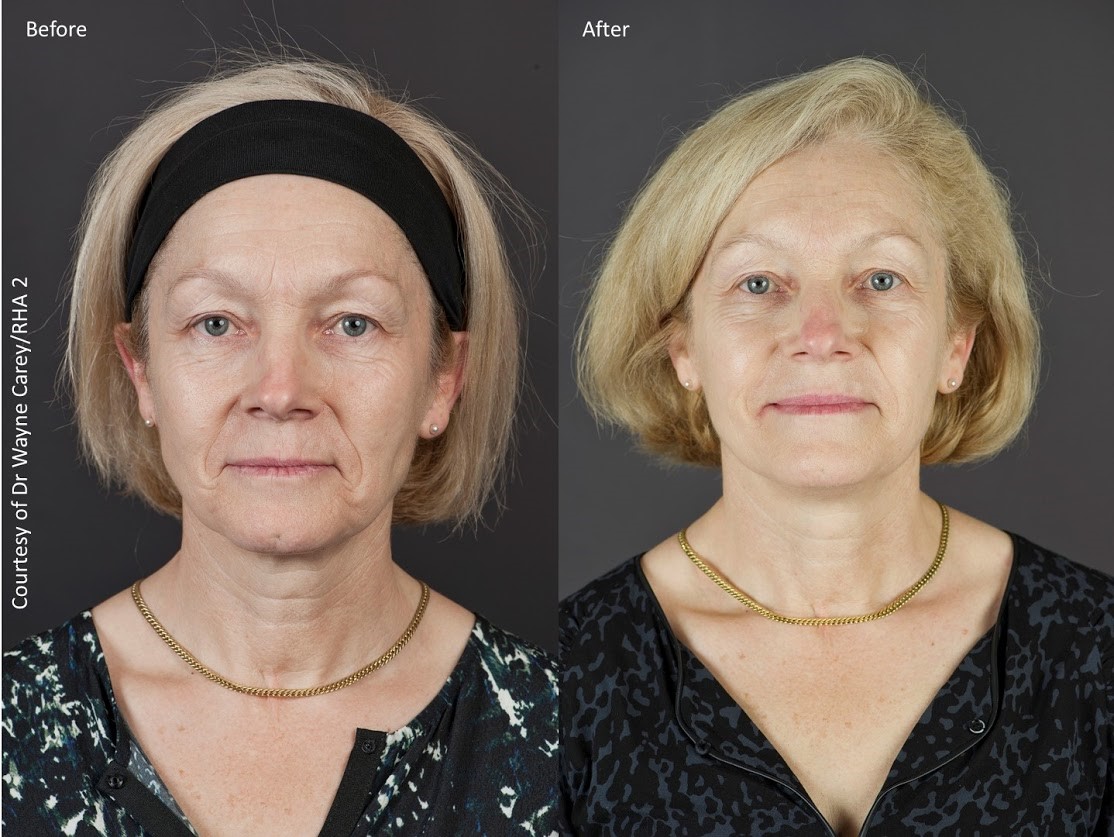 Frequently Asked Questions
What are Dermal Fillers made of?

What areas can I treat with fillers?

Are facial fillers safe?

Are Dermal Fillers painful?

How long will my facial fillers last?
Prices start from €400 packages available. For more information on facial fillers at Renew Skin Clinic, you can Contact Us or visit Our Blog for more details.
WHAT PEOPLE SAY
Sunday Business Post
Wrinkle removal without surgery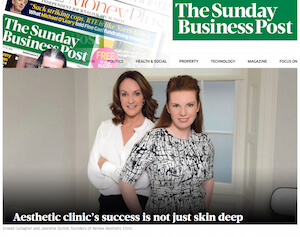 The results came through almost instantly and I was delighted to see an improvement. The Restylane eased my wrinkles and I looked completely like myself – just a little bit perkier. I had expected the bruising to be worse, but it was fairly faint and easily covered with make-up… Overall, I was delighted with the experience. Nobody has suspected that I've had any work done – or not that I can tell anyway – but I've had lots of compliments from people not quite able to put their finger on what's different about me… And while I wouldn't consider plastic surgery, I'm delighted with the results from the injections
Sunday Business Post Article
Age: the final frontier Sixty-two-year-old Mary Kenneally received her first dose of botox at Renew Aesthetic Clinic in Dublin in December. She has never had any cosmetic procedures but says she began to consider getting some work done after seeing the effects it had had on others. Her daughters encouraged her to give it a shot and she made an appointment at the Dublin clinic to find out what was on offer. "At my age I'm not going to improve without a little bit of help," she says. "I'm very pleased with it. People keep telling me I'm looking well. It was a pretty hectic Christmas and I look surprisingly fresh." Kenneally also received some laser treatment to remove thread veins from her face and age spots on the back of her hands. She says she was hugely impressed by the results of both of those procedures.