July Specials at Renew Skin Clinic
Updated:

02 July 2018
20% off Full Face and Lower Face Ultherapy
Many of our Clients come to us with a bit of a dilemma: They're looking for facial rejuvenation without surgical intervention. Clearly, the primary reason that men and women choose Ultherapy for their anti-aging regimen is that this procedure is non-surgical in nature.
• Ultherapy, tightens and lifts the skin, for a refreshed appearance that lasts.
• Our Clients love the results
• No Downtime/ No Needles / Non Invasive
To understand how Ultherapy works you have to understand the role that collagen plays on your skin. When we get around 30 years old we start to lose about 1% of our collagen every year. As collagen production slows our skin loses elasticity and it starts to sag and crepe and just generally look old. It's that simple.
Ultherapy stimulates collagen growth by bypassing the surface of the skin, triggering a natural response under the skin, stimulating the regenerative process that produces new collagen.You don't need a surgical facelift for facial lifting.
We offer this one of a kind treatment at Renew Skin Clinic Dublin, Naas and Drogheda. Ultherapy can stop signs of aging in it's tracks and help prolong a youthful appearance.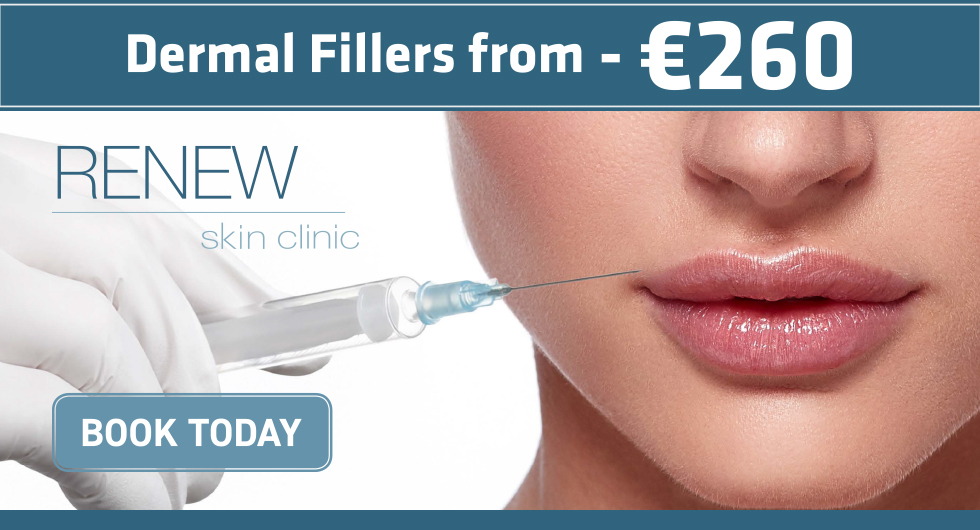 Who is suitable?
Anyone looking to increase or replace volume in the lip. Clients looking to improve definition and reduce lipstick bleeding. At Renew we are all about 'looking a better version of yourself' so less is definitely more!
Does it hurt?
The lip is a sensitive area and the filler we use has some local anaesthetic in it to reduce discomfort. It is always possible to apply topical anaesthetic also, if the client requires it.
How long does it take?
Following a detailed consultation with your nurse, the treatment time will take approximately 20 minutes.
How long before I can return to normal activities?
Most normal activities can be resumed immediately, we would suggest no strenuous exercise for 24 hours. The following day you can be slightly swollen (you'll be loving it!) but this settles within a day.
How will I feel after the treatment?
You may feel slightly numb for about 30 minutes after treatment but you won't feel any different following this.
How long will it last?
Lip filler will last between 6-12 months with most clients noticing improvement for approximately 9 months
Summer is here treat yourself to Icoone/Endermologie Cellulite & Inch loss treatments. Available at our Dublin & Naas Clinic
We are delighted to hear our Icoone Treatment has the coveted Winner / Award in the Best Maternity Health & Wellbeing category of inaugural Pregnancy & Parenting Editor's Choice Awards 2018
Cellulite doesn't discriminate when it comes to who you are, your body type, your body shape, your age or your level of fitness. It affects everyone, from fashion models to athletes!
Thousands of people are not accepting Cellulite as part of their life and are doing something about it by turning to Icoone treatments.
Icoone is used to promote inch loss and reduce unsightly cellulite. For women wanting fast, significant results – even on stubborn areas that diet, exercise and invasive procedures don't treat.
Two sessions per week offers the best results:
5 treatments x 30 minutes €300
5 treatments x 40 minutes €400
For July we will be offering a further saving on a course of 10 X 30 mins for €600 with 10% off so that's just €540 or 10 X40 mins for €720 instead of €800
Dublin 01 661 9261• Naas 045 901 111• Drogheda 041 986 5758